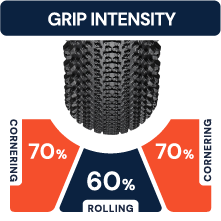 Udden
The Udden features tightly-spaced, low-profile center knobs with aggressive cornering tread for an efficient tire that works well across hardpack, dirt and gravel. The Udden is suited for long days of exploration and lining up on race days where anything could be around the next corner. As the results of years of R&D we have created the specially-tuned Rubberforce G tread compound and Stage 5S Armor construction giving the Udden impressive grip in the dirt and improved ride quality and abrasion resistance.

Features
Fast and efficient tire from hard packed dirt to loose gravel

700x40C, 700x50C, 650Bx47

Tubeless Ready
Stage 5S Armor construction
Rubberforce G gravel tire compound
Tightly spaced, low-profile center tread
Black, tan, or brown sidewall
Type
Gravel
Compound
RUBBERFORCE G
Protection
Stage 5S Armor
Color Options
Black
Tan
Brown
Rim Fitment

Tubeless
TPI
120
Bead
Folding
Size Options
700x40C (ETRTO 40-622)


Weight: 520-525 g

Max Pressure: 55 PSI

(TC/TT)


700x50C (ETRTO 50-622)


Weight: 610-615 g

Max Pressure: 50 PSI

(TC/TT)


650Bx47mm (ETRTO 50-584)


Weight: 570-575 g

Max Pressure: 50 PSI

(TC/TT)
2-Year Warranty
American Classic tires have a 2-year warranty against defects in materials and workmanship. Any defective tires will be replaced at no charge. This warranty applies to the original owner with proof of purchase and is non-transferable and non-assignable. The original owner is responsible for all postage costs and transportation risks of the returned product(s). The warranty covers American Classic products purchased through authorized dealers, www.amclassic.com, or the American Classic branded Amazon store, and product included as original equipment components of a new bicycle purchase. The warranty does not cover normal wear and tear, product abuse, commercial usage, shipping damage, improper installation and/or maintenance, negligence, reckless handling, and/or unauthorized modification.
Please contact support@amclassic.com for warranty information and claim forms.
  Hookless Compatibility
Some American Classic tires are compatible with hookless (Tubeless Straight-Side/TSS) rims. To be compatible, the following must be met:
The tire must be a Tubeless-Ready model,

The tire must not include Stage 3 Flat Protection or Stage 3S Flat Protection,

The tire must be placed on an appropriate width rim, 

The rim must meet current E.T.R.T.O. standards for tubeless systems, and

The air pressure must be below the lowest maximum pressure as listed by both the rim and the ISO recommended pressure for Tubeless-Ready tires on hookless rims.  
More information on hookless compatibility can be found on our Tire and Rim Compatibility page.
Not approved for use on hookless rims:
Lamplighter (all versions)
Timekeeper Tube-Type (all versions)
Timekeeper TLR with Stage 3 Flat Protection
Torchbearer Tube-Type (all versions)
Torchbearer TLR with Stage 3S Flat Protection
Any, and all, tube-type tires
Warning: the maximum air pressure listed on American Classic tires is for hook bead systems. Hookless systems require a lower maximum pressure. ISO provided maximum air pressures for hookless systems can be found in the Tire Pressure section on our Tire Basics page. 
ISO - International Organization of Standards
E.T.R.T.O. - The European Tire and Rim Technical Organization